We're all set to rock the mountain this November with a special journey of Folk from East to West
Join us on Friday at 7.30 for another great line up of local talent, blissful food, friendly faces and community fun. Bring your drums and join in the Jams, dance the night away or just kick back and enjoy.
Our line up this month…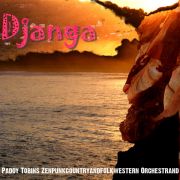 Paddy Tobin. Would be sometimes is, sometimes isn't, but could be folk singer. Paddy has played open mike nights all over the place, had a brief residency at the Grand in Newcastle,( Monday nights! Cynics night!) Newtown cafe circuit and even the Sando once (the band failed to show) … "My credo is Australian stories. My music has been variously described ,but mostly played or sung, and on occasions just banged along to. The style has been called zenpunkcountryandfolkwestern by marketeers, but I just call myself Paddy Tobin. " Paddy's music is Instrumental to Lyrical, with the accent on complexity and diversity of voices through spontaneous audience participation, and empathy.
Paddy has an ep online - check out samples here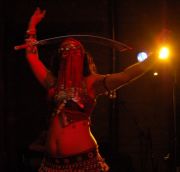 Alexandra, Jasmin & the Belly Divas - Belly Dance. Tonight will be a special treat!  Alexandra from Desert Flame Belly Dance will be showcasing her latest dances in  the true Egyptian style, her gorgeous daughter Jasmin will  join Alexandra in an amazing sword duo & some of her Tribal students will present Om Om -  with new tribal moves sure to touch your soul!

Don't miss this special performance - Jasmin has not performed here since her first ever solo   performance 9 years ago, when she was only 6 years old!
Alexandra teaches belly dance in Toukley, both Egyptian & Tribal styles, with classes for beginners to advanced, and is an avid supporter of Brackets & Jam. See Desert Flame in our Artists Directory.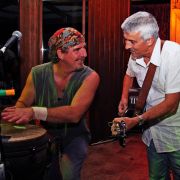 Ron Sinclair & KingRhythm have become one of the most popular duos on the Central Coast live music circuit. For the past few years their energetic acoustic rock performances have delighted music lovers at the Bateau Bay Hotel beer garden once a month on Sunday afternoons, as well as at many other public and private performances.

Ron Sinclair is a well respected performer who has lived on the Coast for many years, building a repertoire of hundreds of great songs, ranging from the 50's all the way up to contemporary artists' hits from Green Day, Ben Lee & Alex Lloyd. Ron has shared the stage with some of the Coast's most famous performers as well as holding residencies at some of Sydney 's best live venues.

KingRhythm, aka Phil King, has been playing hand drums much of his life & regularly performs with popular artists all over the country. Phil combines his unique style of playing Djembe with contemporary music styles, performing intricately textured rhythms that take the listener on a journey of spiritual proportions.
Phil has played a number of major Blues & Music Festivals, sharing the stage with the likes of Chris Wilson, Matt Corcoran, Pete Cornelius, Phil Emmanuel & Phil Manning, as well as opening shows for popular artists Richard Clapton, Jimmy Barnes, Diesel & IOTA, capturing the attention of audiences with the spirit & energy of his drum. Ron Sinclair & KingRhythm's popularity has resulted in the duo being booked for dates as far away as the following year, performing at lots of private functions, as well as playing at local Central Coast venues such as The Kendall Bar (CC Leagues Club) & The Entrance Waterfront.

The Summerland Kings are a lively and extravagant party band offering a unique live show and musical experience. This classy band plays Jump/Swing, Rhythm & Blues, Country/Country Rock and Rock 'n Roll/Rockabilly covering a huge range of music, from the obscure, to the well known covers, plus their very popular original tunes.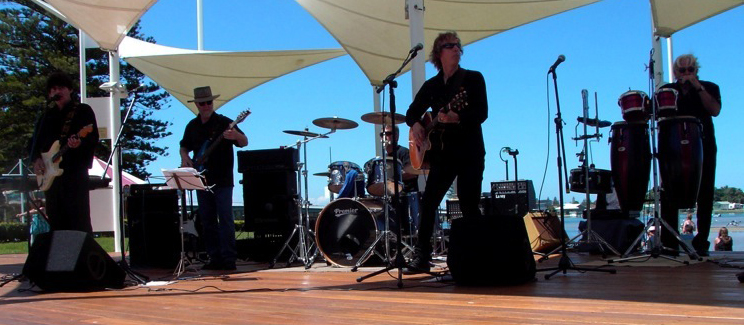 The Band:
Savour the upfront singing and guitar work of ROSS McGREGOR (2002 Tamworth Star Search winner for his CD 'So Long Mama')
Witness for yourself the harp playing, conga & vocal ability of
This email address is being protected from spambots. You need JavaScript enabled to view it.
(Son of the great Tex Morton).
Walk the bass lines, feel the drumming, hear the guitar and enjoy the silky vocals of that master bassman Terry TEZZ Carlan.

Groove to the hot guitar rhythms and keyboards of 'Hilly' Dave Hill while listening out for his laid back vocal abilit


Gordon 'The Skipper' Schubert was born to play drums. The 'Skipper' is the rock solid backbone of this fine band.
And of course don't forget the Famous Brackets Drum Jams at 9.00 and then again at the end of the night
Entry just $10 - accompanied children under 15 free