We have a special treat for you on June 3rd with the amazing Rocwater band playing not one but TWO sets! If you saw them at their reunion, after more than a decade at Long Jetty back in February, you will know how fantastic that day was, well this will be a repeat of that wonderful day and who could ask for more.
The day will start at 12 noon with Kaijin Solo's dream band, The Backbeats so try hard to make it by noon not to miss a minute and score yourself a good possie and a great park :)
Presently the long distant weather forcast is looking good for Saturday, June 3rd but if it does change we can move it all inside, fingers crossed that won't be necessary.
BYO EVERYTHING. Bring a friend, a smile, a picnic, a chair or blanket and treat yourself to what has to be the cheapest and most family friendly day out on the Coast.
`
Line Up for June 3rd, 2023:
* Kaijin Solo & the Backbeats
* Velvet Blue
* Rocwater (two sets!)
(Plus drum jams)
(see bios below)
* Kaijin Solo & The Backbeats
The Backbeats has a unique take on blues-based rock.
Formed recently by guitarist, singer and songwriter Kaijin Solo - also includes Rhys Meyer on vocals and keys, and Ash Feder on drums.
The feel goes from the smooth ambience of Rhys' work on the keys to the foot-stomping of Kaijin's guitar and vocals.
The Backbeats offer an interplay between the keys and guitar, energised by the drum works of Ash Feder which brings a new fresh sound to the band.
The Backbeats has two songwriters, Kaijin Solo and Rhys Meyer - which brings two unique perspectives to the music.
Kaijin Solo – Lead Guitar, Vocals, Songwriter, Published by Foghorn Records previous recordings include, Pretty Cool Hat, Universal Love, Chill Doubt, Black Diamonds, Mysteria and can be found on Spotify here - https://sptfy.com/kaijinsolo
Rhys Meyer – Keyboard, Backing Vocals, Piano Teacher and Session Musician based on the Central Coast having played at various venues such as Avoca Beach Picture Theatre, Local Markets/Clubs and also as far as The Civic Hotel in Sydney.
Ash Feder - Multi-talented Percussionist, Backup Vocals and Session Musician - launched his career online in 2018 on Twitch TV, and has been active ever since. After meeting Kaijin and Rhys at various local jams, Ash was able to quickly adapt to each of their styles.
Clips
Kaijin Solo - Viva La Difference -https://youtube.com/clip/UgkxmLR7Zz7SCD_29JbJYBVjZlwskiMDKZaa
Rhys The Game -https://youtube.com/clip/UgkxGOXtLokiU2fBU50nXoRg56H48L2jK1FG
Ash Hey Jude -https://www.youtube.com/clip/Ugkx7Dsc6LcJw7kCj-92hXR8iRqdyjlKO4LV
From Little Things Big Things Grow - Paul Kelly (Cover)https://youtu.be/jkjbmAtWCKw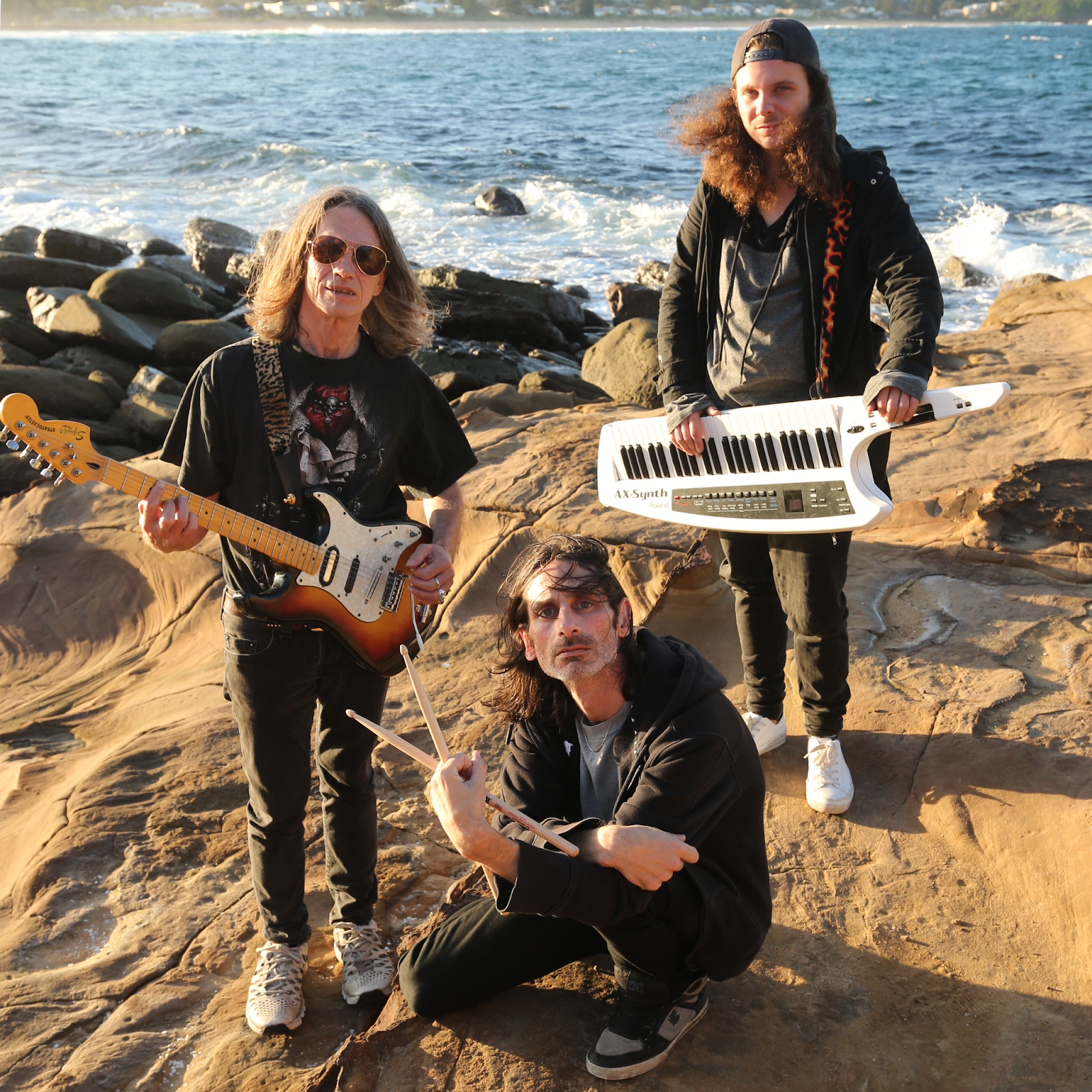 * Velvet Blue
Corina Jones is on vocals. She has been singing since she was 5 years old, being in a family where her father was a Music Teacher and Musician and able to teach anything from Accordian, Piano, Guitar, Harmonica to name just a few. He taught her to sing harmonies with the whole family around the old style piano. Also, her mother was a highly talented dancer and singer. Her parents went on together as professional entertainers - so it was in Corina's blood. Corina went on to sing professionally with various bands, most notably taking over as a singer in Rivershack Blues Band after Karise Eden left to go on ( and win) The Voice. Corina was with Rivershack for 4 years, then went on to form her own band called Velvet Blue, which was a six member band with 2 Girls on Vocal harmonies. Then Covid hit.
Corina has now formed the new Velvet Blue Trio, with Peter Kavanagh (Kav) on Guitar. Kav has been playing Guitars and Keyboards, Singing solo and in band settings since primary school. However, performing live had to take a back seat for Pete as he raised four children with his beautiful wife Leanne, focusing on artistic and musical expression. This led him into Guitar Teaching for the last 15 years, providing him with much needed additional income. Pete is always up for a jam and never without his Guitar in the car, and he is consistently playing at parties, by the campfire and at pubs for a singalong. Now that Peter's children are older he has more time to focus on his music and has re-ingnited his passion for performing live, joining Velvet Blue Trio and his singing buddy Corina, who he has known since his teenage years.
Larry Daley, after many years of playing Hand Percussion with like-minded Drummers, has decided to try his hand at Band style Music. He hooked up with singer Corina and a 6 member Blues unit as a Conga/Djembe Player which was the beginning of his musical adventure. Several bands later he now sits behind Velvet Blue Trio, an Original Covers and Blues inspired Trio, driving the 2 other members up front and keeping them honest with his Percussion and Electronica Style.
Velvet Blue Trio are influenced by the Blues, Folk and Rock traditions, and also love to throw in a few Originals to add some spice.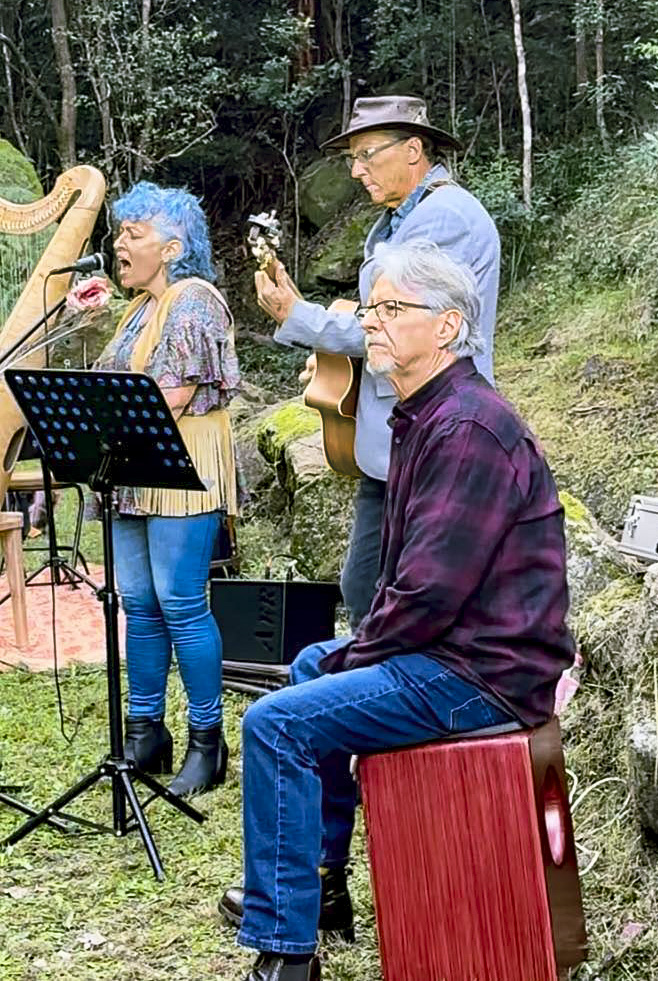 * Rocwater (two sets!)
After more than a decade away, Rocwater return to the stage in 2023 for exclusive local shows.
If you've been to a Rocwater show in the past, you'll know why everyone is so excited. With a unique blend of musical genres absorbed into their songs, they deliver home-grown music that's both timeless and mature, while entertaining their audiences with an infectious energy and joy.
Their spontaneous reunion show in February 2023 at Long Jetty was such a hit with fans, old and new alike, that they couldn't stop at just one… and where better to relive the magic all over again than at their old "stomping" ground up Kincumba Mountain. On June 3rd they will return for Brackets and Jam, their favourite community event, where many bodies have moved to their music over the years.
The beautiful surrounds and mud-brick hall atop the mountain also hold deep connections with the band, who spent a week immersed there recording their self-titled album back in 2007.
Brimming with excitement to revisit the Brackets community again, you can be assured that this special show is truly not to be missed, and one that Rocwater can't wait to share with you