The brackets south crew proudly present another wonderful night of superb music, delicious food and friendly company on top of our beautiful Kincumba Mountain.
BYO everything or choose from another great selection of meals served by our lovely hard-working kitchen volunteers. Bring a friend, a smile, a blanket, a torch to light your way and treat yourself to what has to be the cheapest and most family friendly night out on the Coast.
Line-up for Nov 3rd
7:30 pm: Scene Stealer
8:15 pm: Doctor Goodvibe
9:15 pm: First Drum Jam
9:30 pm: Short n Curly
10:30 pm: Second Drum Jam
(House drums available for the jams!)
Scene Stealer
Local piece band, 'Scene Stealer" have been together for two years now and are developing a serious following in the pubs and clubs with their porch style blues and rock music.
Fronted by renowned and charismatic vocalist Muma Jane.
Scene Stealer has that kick back raw energetic style which gets you in.
Guitarist Ben Hogan, drummer Denis Hodges and blues harpist Matt McLeod.
You will not be disappointed and glad you came!
Doctor Goodvibe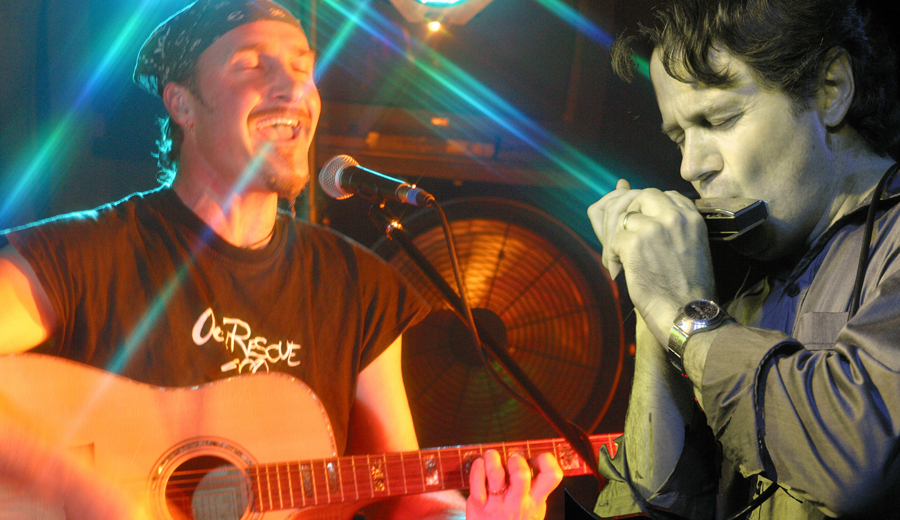 Dr Goodvibe (Edu Valk and Christian Marsh). Australian, original, contempory blues and roots music with elements of funk, reggae, jazz and folk.Edu's acoustic guitar grooves , persuasive percussion (Craig Morrison from Kids on Congas) and Chris' electrifying diatonic and chromatic harmonica.
Multi-Award winners, they deliver upbeat colourful music. EDU VALK is a unique and diverse Australian singer songwriter whose philosophical and often satirical commentary on life openly elucidates his heart. The eternal optimist, EDU's music is raw and honest, with comparisons as diverse as Van Morrison, Lou Reed, Bob Dylan, JJ Cale and David Gray - just to name a few.
The music is timeless and uplifting. It travels a journey from acoustic rock, through funk to reggae and back again, to leave you with the heartfelt simplicity of Simple Things. EDU has collaborated with a vast and varied pool of musicians & friends to create this vibrant, soul elixir.
EDU VALK
EDU began performing at a young age in Canberra, playing covers in wine bars restaurants and pubs. He then proceeded to pull a band together (Art Gecko) and attained a residency at Mt Bluecow Ski Resort. The popularity of this band resulted in a two week residency at World Expo 88, Brisbane. EDU then moved to Sydney to pursue his songwriting career and eventually formed the funk/rock outfit Yellowcake. Yellowcake performed extensively throughout the nineties on the strength of EDU's songwriting and collaborations with the band culminated in a CD. Frustrated with the Sydney music scene, EDU decided to take his girlfriend and guitar and broaden his horizons overseas. He spent two years in North, Central, but mainly South America playing to many a varied audience and honing his songwriting skills in those many idle hours at bus stations and youth hostels. EDU then returned to Sydney to record 'Dr. Goodvibe', his first solo effort, an album that can't help but cheer you up no matter what mood you are in.
CHRISTIAN MARSH
Christian has made the harmonica his life's work. Starting at the age of 14, he has studied the instrument with serious dedication, in a never-ending quest for perfection. He has played every idiom, from country and blues to jazz and classical. Christian has countless sessions to his credit, and played for many years with artists and bands across wide cross-section of music styles. Highlights of his career include a national tour with the hit stage musical "Big River", In this show, Christian not only featured and soloed as part of the pit orchestra, but also played several character roles on stage. Christian then studied jazz improvisation, as part of the "Outreach Program" run by the Sydney Conservatorium of Music. He recorded an album of original material with Guy Dickerson, entitled "Planet Bound", released through Larrikin Records, and another entitled "The Sketch" through La Brava. He has won "Gold Harmonica Awards" on three occasions from Hohner's National Harmonica Championships in Tamworth; he has also worked as Larry Adler's harmonica technician during the Australian leg of Adler's international "Glory of Gershwin Tour". In 2003, Christian won the award for best Instrumental at the 1233 ABC Newcastle Music Awards for his tune entitled "Five Islands" and in 2005, won "Announcers Choice". He was also a nomination for the award in the jazz category in 2003, 2004 and 2005. Aside from recording on his own CD's, Christian has featured as a guest artist on thirty more, and played with many of the top artists in the music industry.
http://www.doctorgoodvibe.com/
Short n Curly
Originally from the Hunter Valley Short n Curly moved to the Central Coast 18 months ago.

This husband and wife team usually work as a Duo, although enjoy working as a trio when the occasion arises.They enjoy playing music from the 60s to the 90s as well as there own originals and released an Album of originals in 2016.

Peter Moore has played lead guitar for many years in various rock bands around the Hunter Valley. His wife Del has played bass guitar in this rocking outfit for the last 4 years, performing live at a multitude of venues.

Paul Parsons will be the drummer for the night. He is an accomplished drummer who has played for many years.

We are looking forward to having a fun time at Brackets and Jam.
https://www.facebook.com/Short-n-Curly-1646276168975219/
Our Brackets South event takes place on top beautiful Kincumba Mountain. The community built venue is a mud brick and natural timber building which sits in a bushland reserve, with panoramic views of Brisbane water and magnificent sunsets over the hills beyond.
This venue is the birthplace of Brackets and Jam on the Central Coast and the community considers it as it's spiritual home. The Mountain itself holds a strong significance for our Aboriginal community, and has been a long standing meeting place for Central Coast people. The rock outcrop situated in front of the kiosk forms a natural pool which is said to have once been a sacred birthing place for women. The Mountain now gives birth to many new beginnings as the hub of creative community arts in the southern Central Coast region.
FINAL DRUM JAM: Stay late and see the evening out with the spirit of the dance and drum! Enjoy a little more space to dance to the powerful beat of the drum.
Adults $10.
Accompanied children under 16: Free
Meals $7 Plus healthy cakes & softdrinks, coffee, teas and chai