Can you believe this folks - July 7th celebrates twenty years of Brackets and Jam on the Central Coast and we have put on this event almost every month for twenty years, mostly on Kincumba Mountain, yes almost every month for twenty years!!!
And what a wonderful line-up we have to celebrate plus of course our huge birthday cake as well as our usual delicious food and very friendly company.
BYO everything or choose from another great selection of meals served by our lovely hard-working kitchen volunteers. Bring a friend, a smile, a blanket, a torch to light your way and treat yourself to what has to be the cheapest and most family friendly night out on the Coast.
Line-up for Friday, July 7th:
7:30 pm InRhythm Drum & Dance Performance
7:55 pm Eleanore Plummer
8:20 pm Alexandra & Johara - Belly Dance
8:30 pm Ron Sinclair & KingRhythm
9:15 pm First drum jam
9:30 pm NFI
10:45 pm Last drum jam
(House drums available for the jams!)
InRhythm Drum & Dance Performance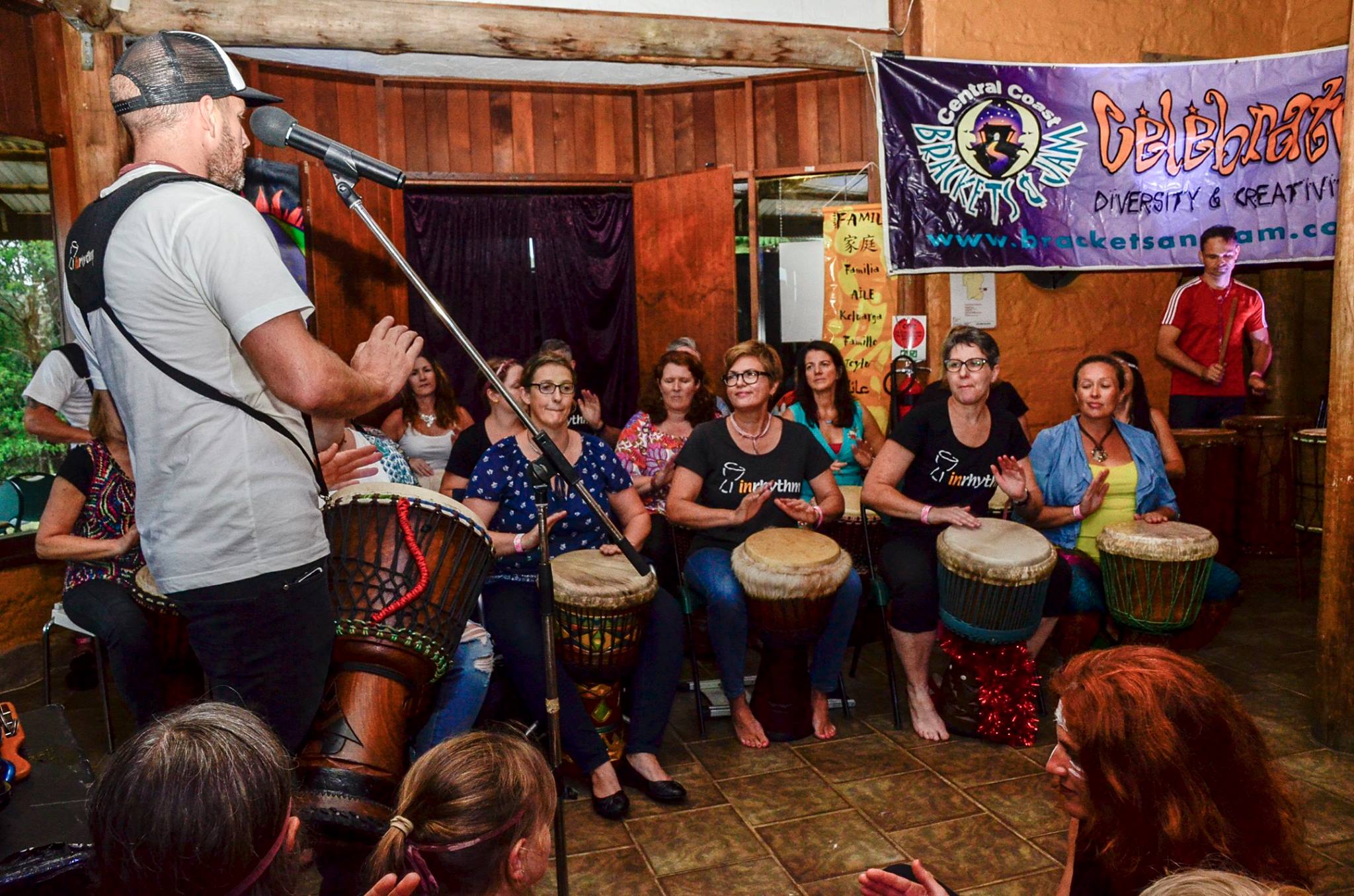 InRhythm's latest student dance and drumming groups will be performing an interpretation of the African Rhythm Kuku!
After only 6 weeks on the dance floor and 8 weeks on the drums, these students come together to showcase what they have learnt.
Its a beautiful celebration of the power of rhythm, dance & drumming to bring the community together in communion.
"We feel honoured and privileged to be a part of the 20th birthday! Brackets has been a special part of our lives for as many years!" Tim Orgias - InRhythm
Eleanore Plummer
After recently borrowing a car for a few months, Eleanore Plummer started singing along to albums on her drive to work each day.
Always enjoying singing but never quite being able to hit all the notes, it finally started to click.
She picked up her guitar that hadn't been played in years and had the urge to write her own songs.
They flowed like never before and she let go of any expectations.
Playing drum kit for 17 years in many different bands, across many different stages, Eleanore has experienced the stage hundreds of times before but never like this.
Alexandra
& Johara -
Belly Dance
Alexandra & Johara from Desert Flame Belly Dance are back to celebrate Brackets 20th year ! Regular performers at Brackets - the ladies tonight will create a warm desert atmosphere with their Ancient Egyptian Pharaonic inspired dance, followed by a stunning Isis wings and dramatic sword dance !
Traditionally Bellydance honours women, is danced with a feeling of sisterhood, and celebrates life !
Weekly classes are available in Toukley, and the Annual concert will be held on Sunday Sept 10th, 2017.
www.alexandrabellydance.com.au
Ron Sinclair & KingRhythm

Ron Sinclair & KingRhythm (aka Phil King) are a very popular act playing mainly around the Central Coast. They met at the Tamworth Country Music Festival in 2003 & got together to play when they arrived back on the Coast. It turned out to be a good move, & they quickly built up a loyal following of fans of all ages. Their unique combination of guitar, hand drum, percussion & harmonies has struck a chord with many in the audience & has led to invitations to play at a number of prestigious events, as well as national & overseas interest & opportunities.
Ron Sinclair is a well respected performer who has lived on the Coast for many years, building a repertoire of hundreds of great songs, ranging from the 50's all the way up to contemporary artists' hits from Black Keys, Pete Murray, Talking Heads & Bernard Fanning. Ron continues to share the stage with some of the country's most famous performers as well as having held residencies at some of Sydney's best live venues, wowing many music lovers with his enormous repertoire and great voice.
KingRhythm, aka Phil King, has been playing hand drums much of his life & regularly performs with popular artists all over the country. Phil combines his unique style of playing Djembe with contemporary music styles. He has played a number of major Blues & Music Festivals, sharing the stage with the likes of Chris Wilson, Matt Corcoran, Juzzie Smith, Phil Emmanuel & Phil Manning, as well as opening shows for popular artists Richard Clapton, Jimmy Barnes, Diesel & IOTA, capturing the attention of audiences with the spirit & energy of his drum. He is also a regular and passionate member of Brackets and Jam on the Central Coast.
The duo's style of music encompasses a vast range of songs from old classics to new bands. With their strong vocals and driving rhythms the duo tackle some interesting choices of material, and it's not unusual to hear "Kings Of Leon" "Powderfinger" and "Badfinger" in the same set. And NO midi files….it's all live energy!
2010/2011 saw the boys invited to play at Humpty Mick's Cafe on the beautiful Lord Howe Island, where they quickly made a name for themselves amongst locals and guests alike, playing a number of sellout shows at the Cafe. 2012 saw them perform at the Opening Dinner for the World Firefighter Games at Darling Harbour in Sydney.
Ron Sinclair & KingRhythm continue to play some killer shows to packed houses, opening for such noteworthy Australian acts as Jenny Morris, Choirboys, Glenn Shorrock, Darryl Braithwaite & Angry Anderson. Audiences are witness to the unique energy that these 2 guys generate....the ACOUSTIC ENERGY their fans just can't get enough of!
https://www.facebook.com/Ron-Sinclair-King-Rhythm-1540509682832999/
NFI

NFI was formed back in 2016 by Andy Dodd and Peter Wark, after Andy had returned from living in the UK for 4 years. Andy and Peter had formed a part of the local covers band Stonefish and played together until Andy's move overseas.
Stonefish was formed back in 2006 and stood out from the crowd by playing well known energy fueled reincarnations of unpredictable songs, that the band grew up with. With a heavy lean towards the British bands of the like of The Jam, The Who, The Sex Pistols and Ian Drury. With tunes from The Saints and The Sunny Boys providing the Australian influence. Stonefish proudly made a point of rarely playing a tune that you would hear from any other band.
Whilst in the UK he fronted another covers band, Deezul, cranking out high energy Rock and Punk covers in the south coast of England.
Returning to Australia in 2015, he teamed back up with his friend and former band member Peter Wark. Andy and Pete soon realised that they wanted a change in direction and started following their dream of writing original music.
With the music always coming first, Andy and Pete have been carving out tunes with an original style, blending a feel of Atmospheric Indie Groove Rock with meaningful lyrics and a little hint of punk from time to time, to keep it interesting.
Bringing in another former Stonefish band member Craig Tomlinson, with his smooth and clever bass lines. Dylan Boor then joined in, supplying with own brand of versatile, interesting and powerful guitar. Dave Rowe has now added his unique and experienced technique completing the line up on drums and NFI are now ready to share their work with you.
Andy Dodd – Vocals, Rhythm Guitar
Andy started playing the guitar at an early age and always looked at his vocals to be his strongest talent. He has always enjoyed all genres of music from Hard Rock to Disco to Punk and his tunes reflect a softer side to him. Always being one for the lime light, he thoroughly enjoys being the centre of attention.
Peter Wark – Vocals, Keys
Inspired to play piano by his father's love for swing music of the 1940's, Peter was taught by a virtuoso session player in the 80's for a short time. This introduced blues and boogie into his musical life and built a lasting foundation for his playing style.
Peter has recently come out of 10 years playing keys, guitar and vocals with local band Stonefish. With a strong passion for a wide range of music, Peter is focussing on writing and arranging dynamic and energetic material with strong melodies to generate an up vibe for the punters. Peter has a long standing musical partnership with Craig and Andy having worked together for many years and is excited to be part of NFI.
Craig Thomlinson – Bass
Craig has played bass from his late teens when his mate said you should try bass. From that moment he was hooked and still is. Over the years Craig has played in many great cover bands the last being Stonefish, original bands, blues bands etc from festivals to sweaty pubs.
Craig's passionate about holding down the bottom end groove and with freedom to be creative with original material. Excited to be part of this band having played with Andy and Peter in Stonefish and knowing what they bring to the table, and now with Dylan and Dave.
Dylan Bloor – Lead Guitar
Dylan grew up listening to Hendrix, Stevie Ray Vaughn, BB-King, Joe Bonamassa, Kenny Wayne Shepard. Started playing guitar when he was around 10 or 11 years old, learning and copying Aussie bands like The Bondi Cigars, The Donkeys, The Hippos.
Has now been the lead guitarist in the band "A Coupla Numbers" for around 7 years, had a short time playing in the funk band "Chronic Badger" and currently then guitarist in "NFI".
Spends most of his time either playing a guitar or trying to find another to purchase!, Strat Enthusiast!
Dave Rowe - Drums
Dave is self-taught. He learnt the trumpet listening to Louis Armstrong and Dizzy Gillespie and then played trumpet in bands. Later, he discovered a love of drumming and gained valuable experience working in the sound department of Jesus Christ Superstar, Sydney (watching Greg Henson), which led to playing drums behind Jon English at shopping centres around Sydney.
He spent a few years in Melbourne as a drummer touring with Jim Keays Band, then in other bands including Fast Buck, Billy White Disco Fantasy Show Band and then, in Sydney, The Elements, to name a few which lead to him being sponsored by Mapex Drums. More recent bands include Tezza and the Twistops, Dance Station, Rebel Rousers, The Summerland Kings, and The Rewbies on the Central Coast. He also worked with the Jackie Dee Band at Sydney Royal Easter Show and for the past few years gigged and recorded with Marty Fabok's ska band The OzSkas.
https://www.facebook.com/NFIMusic/
Some recordings NFI did at Charlie Margin's place:
Dreaming https://youtu.be/EbcsYu_5OI0
Walk With Me https://youtu.be/VMw1yvBd4-U
I Get High https://youtu.be/o-m7iq2sufk
Our Brackets South event takes place on top beautiful Kincumba Mountain. The community built venue is a mud brick and natural timber building which sits in a bushland reserve, with panoramic views of Brisbane water and magnificent sunsets over the hills beyond.
This venue is the birthplace of Brackets and Jam on the Central Coast and the community considers it as it's spiritual home. The Mountain itself holds a strong significance for our Aboriginal community, and has been a long standing meeting place for Central Coast people. The rock outcrop situated in front of the kiosk forms a natural pool which is said to have once been a sacred birthing place for women. The Mountain now gives birth to many new beginnings as the hub of creative community arts in the southern Central Coast region.
FINAL DRUM JAM: Stay late and see the evening out with the spirit of the dance and drum! Enjoy a little more space to dance to the powerful beat of the drum.
Adults $10.
Accompanied children under 16: Free
Meals $7 Plus healthy cakes & softdrinks, coffee, teas and chai